---

Hollywood legend has it that Bette Davis was forced to talk to a blank wall rather than her co-star Henry Fonda during filming of her close-ups in Jezebel; the reason was that he had repaired to New York to attend the birth of his daughter Jane.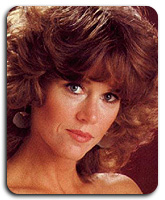 A child of privilege, the young Jane Fonda exhibited the imperious, headstrong attitude and ruthlessness that would distinguish both her film work and her private life. The teenage Fonda wasn't keen on acting until she worked with her father in a 1954 Omaha Community Theatre production of The Country Girl. Slightly interested in pursuing a stage career at this point, Fonda nonetheless studied art both at Vassar and in Europe, returning to the states to work as a fashion model. Studying acting in earnest at Lee Strasberg's Actors' Studio, Fonda ultimately starred on Broadway in Tall Story, then made her film debut by re-creating this stage appearance in 1960.

A talented but not really distinctive player at this time, Fonda astonished everyone (none as much as her father) by becoming one of the first major American actresses to appear nude in a foreign film. This was La Ronde (1964), directed by her lover (and later her first husband) Roger Vadim. The event was heralded by a giant promotional poster in New York's theater district, with Fonda's naked backside in full view for all Manhattan to see. Vadim decided to mold Fonda into a "sex goddess" in a series of lush but forgettable films; the best Fonda/Vadim collaboration was Barbarella (1968), which scored as much on the actress' sharp comic timing (already evidenced in such American pictures as Cat Ballou, 1968) as it did on her kinky costuming. In the late '60s, Fonda underwent another career metamorphosis when she became involved in the anti-Vietnam War movement. Her notorious visit to North Vietnam at the height of the conflict earned her the sobriquet "Hanoi Jane," as well as the enmity of virtually every ex-GI who fought in Southeast Asia.

Even so, Fonda's film stardom ascended in the early '70s; in 1971, she won the first of two Oscars for her portrayal of a high-priced prostitute in Klute (her other was for Coming Home [1978]), and Fonda's career flourished despite a sub-rosa Hollywood campaign to discredit the actress and spread idiotic rumors about her subversive behavior (one widely circulated fabrication had Fonda destroying the only existing negative of Stagecoach because she despised John Wayne).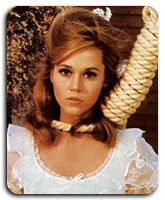 In the 1980s, the actress realized several personal and career milestones: she worked with her father on film for the only time in On Golden Pond (1981); she assisted former peace activist Tom Hayden, whom she had married in the early '70s, in his successful bid for the California State Assembly; and she launched the first of several best-selling exercise videos. She also won an Emmy for her performance in the TV movie The Dollmaker (1984). After her marriage to Hayden ended in the early '80s, Fonda married media mogul Ted Turner in 1991 (the couple would divorce in 2000), and began curtailing her film appearances, all but retiring from the screen after her lead role opposite Robert De Niro in 1990s Stanley & Iris. Though occasionally glimpsed performing the "tomahawk chop" at Atlanta Braves games during her marriage to Turner, Fonda was no less the social activist in the 1990s than she was two decades earlier: among her projects was the production of several "revisionist" dramatic specials and documentaries about the history of Native Americans, duly telecast on Turner's various worldwide cable services. — Hal Erickson

Actress Filmography:
Monster-in-Law (2005) (post-production) .... Viola Fields

Stanley & Iris (1990) .... Iris King

Old Gringo (1989) .... Harriet Winslow
... aka Gringo viejo (1989) (Argentina)

Retour (1987)

Leonard Part 6 (1987) .... Jane Fonda

Morning After, The (1986) .... Alex Sternbergen

Agnes of God (1985) .... Dr. Martha Livingston

Dollmaker, The (1984) (TV) .... Gertie Nevels

Lily for President? (1982) (TV)

I Love Liberty (1982) (TV)

Lily: Sold Out (1981) (TV) .... Wanda

Rollover (1981) .... Lee Winters

On Golden Pond (1981) .... Chelsea Thayer Wayne

Nine to Five (1980) .... Judy Bernly
... aka 9 to 5 (1980)

Electric Horseman, The (1979) .... Alice 'Hallie' Martin

China Syndrome, The (1979) .... Kimberly Wells

Superstunt (1978) (TV)

California Suite (1978) .... Visitors from New York - Hannah Warren
... aka Neil Simon's California Suite (1978)

Comes a Horseman (1978) .... Ella Connors

Coming Home (1978) .... Sally Hyde
... aka Hemkomsten (1978)

Julia (1977) .... Lillian Hellman

Fun with Dick and Jane (1977) .... Jane Harper

Blue Bird, The (1976) .... The Night
... aka Sinyaya ptitsa (1976) (Soviet Union: Russian title)
Doll's House, A (1973/II) .... Nora Helmer
... aka Maison de poupée (1973) (France)
Steelyard Blues (1973) .... Iris Caine
... aka Final Crash, The (1973) (USA: TV title)
Tout va bien (1972) .... Her, Suzanne
... aka All's Well (1972) (USA)
... aka Crepa padrone, tutto va bene (1972) (Italy)
... aka Just Great (1972) (International: English title)

Klute (1971) .... Bree Daniel

They Shoot Horses, Don't They? (1969) .... Gloria

Barbarella (1968) .... Barbarella
... aka Barbarella (1968) (USA)
... aka Barbarella: Queen of the Galaxy (1968) (USA: promotional title)
Histoires extraordinaires (1968) .... Contessa Frederica (segment "Metzengerstein")
... aka Spirits of the Dead (1969) (USA)
... aka Tales of Mystery (1968)
... aka Tales of Mystery and Imagination (1968) (UK)
... aka Tre passi nel delirio (1968) (Italy)
... aka Trois histoires extraordinaires d'Edgar Poe (1968)

Barefoot in the Park (1967) .... Corie Bratter

Hurry Sundown (1967) .... Julie Ann Warren

Any Wednesday (1966) .... Ellen Gordon
... aka Bachelor Girl Apartment (1966) (UK)
Curée, La (1966) .... Renee Saccard
... aka Game Is Over, The (1967) (UK) (USA)
... aka Calda preda, La (1966) (Italy)
... aka Tears of Rapture (1966)

Chase, The (1966) .... Anna Reeves

Cat Ballou (1965) .... Catherine 'Cat' Ballou

Félins, Les (1964) .... Melinda
... aka Joy House (1964) (USA)
... aka Love Cage, The (1964) (UK)
Ronde, La (1964) .... Sophie
... aka Circle of Love (1965) (USA)
... aka Piacere e l'amore, Il (1965) (Italy)

In the Cool of the Day (1963) .... Christine Bonner

Sunday in New York (1963) .... Eileen Tyler

Period of Adjustment (1962) .... Isabel Haverstick

Chapman Report, The (1962) .... Kathleen Barclay

Walk on the Wild Side (1962) .... Kitty Twist

String of Beads, A (1961) (TV)

Tall Story (1960) .... June Ryder